Table of Contents
AmigaOS 4
2021
Utility



City Generator - Fantasy city population generator.

2020
Game



Star Pusher - A cute Sokoban clone.

2018
Game


Grimps - A wonderful action adventure puzzle game.

2015
Utility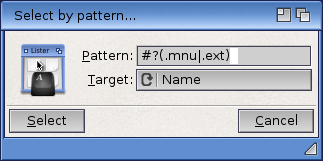 PowerSelect 3.0 - A powerful icon selector

2014
Music application


4096 Live - Software synthesizer interface for live performances.

Game


Scavenger - A Lode Runner like puzzle game.

Utility


Scripts - Workbench menu for launching scripts. Source code included.

Utility


Powerselect - Select icons by using a search pattern.

Game


Digger Remastered - Classic arcade game

2013
Utility


64tass 65xx series cross-assembler. Source code included.

Utility


EasyPGP.lha


EasyPGP.readme Five easy to use front-ends for PGP. Source code included.

Utility


Flops Measures computer performance. Source code included.

Game


Freeserf Faithful clone of classic simulation game Settlers

Utility


PortWatcher.lha


PortWatcher.readme Message port monitor. Source code included.

2007
Game utility


Bfmapviewer BattleForce map viewer

Classic Amiga
2006
Utility


OS39FinnishNDK OS3.9 Finnish Locale NDK

2002
2001
Utility


Basir Commodore Basic reader and converter

2000
Utility


BFLocalizer Localizes any program

Manual


Basic35Manual Commodore Basic 3.5 manual

Utility


DelfInit Initialization utility for Delfina soundcards

Game add-on


Quake_FIN Finnish catalog for Quake

Utility


RoboticsDP Robotics Developer Pack

1996
Utility


ALockUtils Security system for Amiga. V1.1